Home Health Agency for Senior Care
Bringing
care home.

We believe in delivering high-quality, compassionate, and flexible care- in your home, or wherever you call home.
Compassionate In-Home Health Care – From Medical Appointments to Live-In Care, We Have You Covered in Maryland & Washington, DC
SmithLife Homecare provides high-quality nursing assistant caregivers at home- or wherever you call home. Our in-home care services are designed to provide aid for several situations. Our Certified Nurse Assistants can help you with medical appointments and aid in recovering from a complex medical situation. Our home health aides provide companionship at home, assisted livings, hospitals, and other facilities. Our team specializes in providing compassionate and attentive caregivers for adults needing additional care and seniors at home.
We can help with one-day medical appointments and all the way up to live-in / 24/7 care at home. Our business is licensed, bonded, and insured. We also have an A+ rating on the Better Business Bureau, Dementia Friendly, SageCare, and have many awards, including our previous "Best in Home Care" award in the Washington Jewish Week.
Call (301) 816-5020 to start your caregiver services today!

We Believe In
Quality
Our caregivers are trained specialists, and we are committed to their professional development, including ongoing training and certification in Alzheimer's, Parkinson's, stroke, dementia, and hospice support, to name a few.

We Believe In
Compassion
We pride ourselves on our mission of building community and making connections. Our team embraces these principles, and is sensitive and empathetic to all of your needs.

We Believe In
Flexibility
Our service packages are diverse and intended to meet the individual needs of each client. As care needs change for your loved one, your schedule can be adjusted without delay or penalty.
PROFESSIONAL IN-HOME HEALTH CARE THAT IS EASY TO START
We know most adults and seniors think starting home care can be complicated. We make it easy! Our innovative business approach makes starting easy as 1, 2, 3.
First, we start by gladly answering all your questions, and making sure you understand the start. Stay assured that our flexible approach is hard to beat. We know needs change, and too much or little support can affect the overall outcome. That's why all we ask for is twenty-four hours' notice for any schedule changes. You can start and stop your service anytime, without the burden of fees or penalties.
We provide an array of in-home care options to help you with our trained caregivers who specialize in post hospital support, companion care, personal services, lifestyle services, transportation to appointments, live-in care, and expert care for seniors at home.
Our trusted eldercare services ensure your loved one receives the individualized attention, emotional support, and companionship they need to recover after a hospital stay, rehab or if they prefer to age in place. We have Certified Dementia Practitioners, Senior Home Safety Specialists, End of Life Specialists and Registered Nurses, who provide a free registered nurse assessment within 24 hours of starting service.
TRUSTED IN-HOME HEALTH CARE
Our proven approach to quality caregiver services doesn't mean you will pay a premium price. Our affiliation with Charles E. SmithLife Communities gives us the advantage and resources we need to provide the highest quality of care at a value-based price. Call us today to start you home care at (301) 816-5020.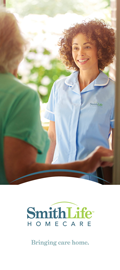 Read more.
Find additional information about our home care
services in our brochure.
Download
Read more.
Find additional information about our services and caregivers in our brochure.
For immediate assistance please call 301-816-5020. By submitting your information, you allow SmithLife Homecare to contact you.
Download
or receive in an email
For immediate assistance please call 301-816-5020. By submitting your information, you allow SmithLife Homecare to contact you.
We Believe
Expectations are meant to be exceeded.
For nearly two decades, SmithLife Homecare has been like family for our clients in and around the Washington, DC metropolitan area. Our caregivers aren't simply providing services—they are making connections.
About Us
Our In-Home Caregiver Services
Personal care
Lifestyle services
Companion care
Laundry services
Meal preparation
Shopping and household chores
Drive to doctor appointments
Short-term assistance – 5 hours per day
Post rehab support
Live-in / 24/7 caregivers
Respite care
We can provide emergency care in as little as 4 hours. Call (301) 816-5020 to start!
Learn More
HELPING SENIORS MAINTAIN DIGNITY AND INDEPENDENCE WITH OUR IN-HOME SENIOR CARE
Helping our loved ones maintain dignity and independence as they are aging in place can be a delicate balancing act. While your elderly relatives may increasingly need help to complete day-to-day tasks, they might still want to live alone. In fact, having the opportunity to do so is of crucial importance to many older adults. In-home senior care is a fantastic option in such cases. A home health care agency like ours can provide vital services and support to the elderly and vulnerable while still enabling them to live an independent life at home.
By working with our reputable home health care agency, you can ensure that your loved one receives the support they need to maintain their independence while remaining at home. We provide a wide range of services, including assistance with personal care, medication management, meal preparation, and transportation. Our in-home care also offers companionship and emotional support, which can be particularly important for seniors who may feel isolated or lonely.
Our in-home senior care will allow your elderly loved one to maintain their sense of autonomy and control over their life, instead of being forced to move into a nursing home or assisted living facility. They will continue to live in the familiar surroundings of their own home, with the added support of a caring and compassionate caregiver.
At the same time, in-home senior care will provide peace of mind for you and the other family members who may be worried about safety and well-being. By working with our home health care agency, you can rest assured that your elderly relatives are receiving the highest quality of care, and that their needs are being met in a safe and compassionate manner.
UNIQUE AND PROVEN APPROACH TO SENIOR HOME HEALTH CARE
Our in-home care agency is proud to enable many elderly members of the community to preserve their independence for longer than may have been possible otherwise. We recognize that every patient of ours is an individual. Therefore, we have developed a unique approach to elderly care for every single patient. With our senior home health care, we ensure that your loved ones get the medical and emotional support and companionship they require without needing to move to a care facility. Our home health caregivers come to your loved one's address in Washington, D.C., Rockville, Chevy Chase, Bethesda, Potomac, Silver Spring, Gaithersburg, Germantown, Olney, Derwood, and other parts of Montgomery County, Maryland for regular check-ins. Besides our senior care services, we can help with recovery after medical procedures, stroke recovery, Parkinson's, dementia, and hospice care.
Start your service today! We look forward to helping you.
Our Team
Our client care representatives are available to answer questions and make connecting with us easier for you. Call us today at 301-816-5020, and let us become part of your family.
Contact Us