Frequently Asked Questions
Home care made easy.

Just imagine, an easy to start service that gives you the peace of mind knowing you or your loved one is in good hands. Start here by learning about the most commonly asked questions when starting home care, and call for more information at 301-816-5020 or email us.
Arranging Service
Do you provide home care where I live?
We provide home health care in Montgomery County, Maryland and Washington, DC. Our caregivers can provide assistance at home in Washington DC, Rockville, Chevy Chase, Bethesda, North Bethesda, Potomac, Cabin John, Kensington, Aspen Hill, Wheaton, Colesville, White Oak, Kemp Mill, Four Corners, Silver Spring, Gaithersburg, Germantown, Olney, Derwood, Damascus, Travilah, Darnestown & Clarksburg.
How do I arrange for home care services?
You can arrange service with a simple phone call to 301-816-5020. We will be glad to speak with you about your needs and how we can help anytime, day or night.
I'm not sure what I need. Can someone help me figure it out?
Too much care can be just as detrimental to the healing process as much as too little care. Our care team starts with a home visit from a RN and assists with determining the amount of care needed for your loved one. SmithLife Homecare has a custom care approach. This means that we build the hours and services around your specific needs and desires—from one day to many, from one task to an ongoing schedule.
When can I call the office to schedule care?
You can call our office at 
301-816-5020
 at any time. Your care team is on call 24hrs a day, seven days a week. Whether you need emergency services or simply need to change your schedule, we are available to take your call for no additional cost. 
How long will I wait for home care service after placing my request?
We offer a 1-2-3 guarantee! We will begin with a phone assessment to determine the hours and the support the client needs within 1 hour. We will inform you or your family of the name of your caregiver in 2 hours. And within 3 hours, our caregiver will be providing services to you or your loved one.
Do I need to sign a contract with the agency?
Yes, however, our contracts are not binding; you can cancel, increase, or decrease care at any time for whatever reason without penalty.
Insurance
Do you accept insurance?
Yes. We accept all long-term care insurance plans.
How do I file the insurance claim?
Unlike most home care agencies, SmithLife takes the burden out of having to deal with complicated forms and submission processes by directly doing all of the paperwork for you!
We submit invoices and nursing notes directly to the insurance company so that you can get reimbursed timely.
Scheduling Concerns and Cancellations
How can I change the schedule once it's in place?
To reschedule care, call us at 301-816-5020, at any time. We ask for 24 hours notice when possible to provide you with the most compatible caregiver and to avoid a late fee.
What if my caregiver is unable to work?
Should your caregiver call in sick or have a scheduled day off, we will provide a replacement caregiver, and immediately inform you of who is coming. We strive to make the transitions as seamless as possible.
Our Caregivers
Can caregivers provide transportation, if needed?
Our caregivers can provide transportation to doctor's appointments, run errands, go to the grocery store, take clients to social gatherings, and any other transportation needs.
What type of screening does the agency perform?
We conduct thorough screenings of all caregivers, including the following:
Pre-employment drug screening
TB screening
Criminal background check
Previous employment verification
Work references
All of our caregivers are licensed, bonded and insured and must be current on all certifications, including CPR and Certified Nursing Assistant License.
Will the same caregiver assist me every day or will it be somebody different?
We strive for continuity of care. For weekly service, we generally provide one caregiver on Mondays through Fridays, and another caregiver for the weekend. This also depends on the hours requested.
How can I be sure the aide sent is competent?
In addition to being licensed by the state as a certified nursing assistant, we require all of our caregivers to maintain a valid CPR certification. When we hire our caregivers, they attend a 5 hours class with our Director of Nursing, they take a quiz and receive other Dementia, Kosher, and SAGE training.
Our caregivers also are required to attend an annual minimum of 12 hours of in-service education in our office.
Client Services & Case Management
How often will someone from your home care agency call to see if I am satisfied with the services provided to me?
The answer is as often as needed to make sure everything is to your complete satisfaction. We check on new clients weekly, and we call ongoing clients every 30 days, or more often if there is an illness, a hospitalization, or other concerns.
Our Registered Nurse personally visits all clients every 90 days for the full length of care.
How long will it take someone to return my call after business hours?
Most of the time, the phone is answered every time you call. On a rare occasion, your call cannot be answered; someone will return your request within 30 minutes.
Will you coordinate my care with my support team?
Absolutely! We gladly coordinate your care with doctors, social workers, case managers and others, as well as family members, powers-of-attorney, and any other important people you designate.
Will my services be kept confidential?
Maintaining privacy and confidentiality is essential to us. All of our employees are trained and abide by HIPPA laws.
For immediate assistance please call 301-816-5020. By submitting your information, you allow SmithLife Homecare to contact you.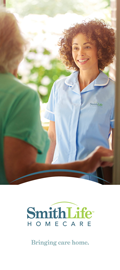 Read more.
Find additional information about our services and caregivers in our brochure.
Read more.
Find additional information about our services and caregivers in our brochure.
For immediate assistance please call 301-816-5020. By submitting your information, you allow SmithLife Homecare to contact you.
Download
or receive in an email