When a patient is nearing the end of their life, hospice care is a level of intervention that focuses on comfort and dignity during this time. According to the National Hospice and Palliative Care Organization (NHCPO), the most recent available figures reveal that in 2020 over 1.7 million Medicare recipients were enrolled in hospice care for one day or more, representing a significant increase from the prior year. When assessing elderly care, NHCPO determined that 32-65% of individuals receiving Medicare over 65 years of age received hospice before passing. When considering hospice for oneself or a loved one, here is some important information to bear in mind.
What is Hospice?
The American Cancer Society defines hospice as: "A special kind of care that focuses on the quality of life for people who are experiencing an advanced, life-limiting illness and their caregivers. Hospice care provides compassionate care for people in the last phases of incurable disease so that they may live as fully and comfortably as possible."
Hospice care is generally a team approach, with physicians, caregivers, family, and spiritual advisors working with the patient to offer well-rounded comfort and support. For patients living at home, home healthcare providers are essential members of the team.
Hospice care can be categorized as these four types:
Routine home care: Intermittent care where a patient is treated and cared for in the home, but it can also be a nursing facility, or another place the patent considers a "home."
General inpatient care: Crisis-like level of care usually provided outside the home, in an inpatient setting at a medical facility like a hospital or skilled nursing facility.
Continuous home care: Crisis-like level of care for short-term management of out-of-control patient pain and/or symptoms usually provided at home.
Respite care: Temporary care provided in a nursing home, hospice inpatient facility, or hospital so that a family member or friend who's the patient's caregiver can take some time off.
Medicare certified hospices provide 4 levels of care and are based on the patient and caregiver needs. Depending on your unique situation,  Medicare coverage may, or may not, be provided.
Caring Includes Culture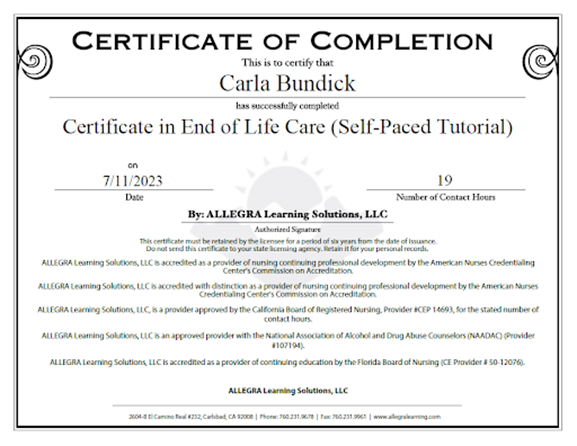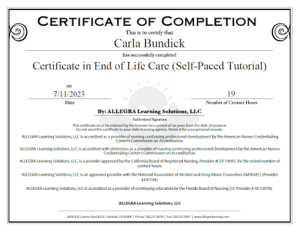 Each patient is unique in their needs, so hospice care is specifically tailored to the individual. This means that quality hospice care has to have both a medical and cultural approach that considers the individual. SmithLife Homecare Director Community Relations, Kathleen McGuinness CDP, EOL, CHSS has an End of Life Certification in hospice care. She recently participated in a Jewish Social Services Agency (JSSA) program about end-of-life cultural considerations. According to Kathleen, "When patients enter hospice, it is critical to their comfort that their specific culture is brought into the care plan." This could mean anything from making sure that an appropriate spiritual advisor is part of the team to complying with the dietary restrictions and preferences of the patient.
Carla Bundick, SmithLife Homecare's Director of Business Development recently received her Certificate in End-of-Life Care from ALLEGRA Learning Solutions, LLC. Carla states, "it is important to remember that Hospice care does not mean 'giving up hope'. The facts about hospice, actually prove otherwise. Given time, hospice relieves suffering, promotes dignity, and helps to facilitate closure for patients and families. These are the benefits of Hospice care." SmithLife Homecare has a trained team in place to support families with hospice and end of life care.
Choosing the Right Team
While similar, in-home healthcare and hospice care are different in important ways, so it is critical for caregivers with the right experience. Hospice care is not curative like in-home healthcare, so the focus of the care is different. At SmithLife Homecare, our team includes caregivers with specific training in hospice care so that they can make a meaningful contribution to the patient's needs. Contact us to learn more about our hospice care services.